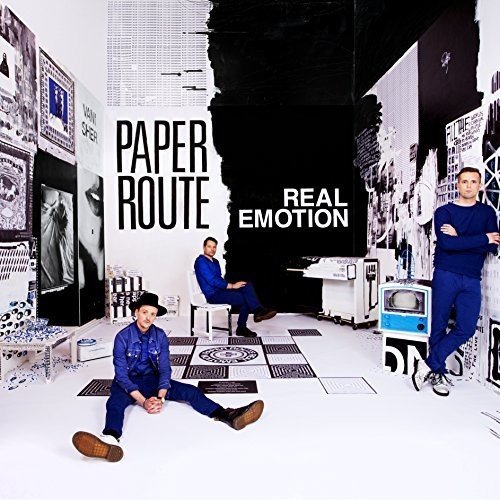 Some how Paper Route is the band that always releases the album I need right when I need it. There is no denying their talent and I think that each album is a testament unto itself but I can't deny that part of my absolute adoration of their music has a lot to do with the timeliness of their release. As this is a review to benefit everyone else I hesitate to speak too much about how much each album has meant to me but I think it also says something about their growth and progress as a band. 
I was given their We Are All Forgotten - EP in 2008 (I think?) which got me excited for their full length, Absence, in 2009. I've recently gone back and listened to Absence and it fit in perfectly with my musical obsessions at the time of Kent, Mutemath, Mew (I actually recently listened to all of Mew's music to try and find one song that ended up being Carousel by Paper Route... but that's a different story.), and The Myriad. In 2012 they released The Peace of Wild Things which fit in perfectly with on of the most stressful and heartbreaking years of my life... and it stayed in solid rotation for a very very long time. And that brings us to the current day and the release of Real Emotions... 
I'll be honest and say that I wasn't super into the singles when they were released but they have really grown on me in the context of the album. The band has always done a superb job of arranging their albums from start to finish (so do yourself a favor and turn shuffle off) and this holds true. With 13 songs and 3 well placed instrumental tracks, that act as musical pallet cleansers, this is one is made to be enjoyed from the first course to the last. There is a good balance of high energy tracks such as Writing on the Wall and Chariots as well as emotional swelling songs like Untitled, Bleary, and Vanisher. My current favorite track is Second Place but Vanisher and Balconies are also top contenders. 
I don't commit to adding things to my "list of perfect albums" easily (that is quite a commitment after all) but Real Emotions certainly has a shot... which would make Paper Route the only band with 2 albums on my list. In addition to their albums, I've seen them live several times (every time they've been to Houston I believe) and it doesn't matter that Houston music crowds are usually the WORST and the rooms often don't do their sound justice... the songs mean enough to me to overcome all of that.  
Recommended for fans of MuteMath, M83, Barcelona and those with real emotions.